Leaning Into the Wind is a film about Andy Goldsworthy. I have long been a fan of this amazing artist. I find his sculptures made from natural materials to be contemplative and mesmerizing. He is an ephemeral artist, creating works outdoors made from natural materials that eventually succumb to the elements. His work is not preserved on-site, but held in the moment through the his own photographic images.

Andy Goldsworthy in Leaning Into the Wind: Andy Goldsworthy (2017)
from imdb.com
In an interview by Patrick Markham, Goldsworthy states:
"The ideas I'm having now are far better than anything I've thought of before. Most of them I couldn't have even conceived of 10 years ago, works that take me way out of my comfort zone. The biggest failure is to make a work that is safe, that doesn't take a risk. I'm taking big risks with no safety net."

Image from MV times, Article by Brooks Robards
He has always worked with nature, using materials found around him, yet he does not describe himself as a pastoralist, or even an environmentalist. Although I personally find his work environmental and zen, he views his surroundings not as a place of therapy and peace, but as a place that is challenging — a place to challenge his intellect and engage his body in physical work.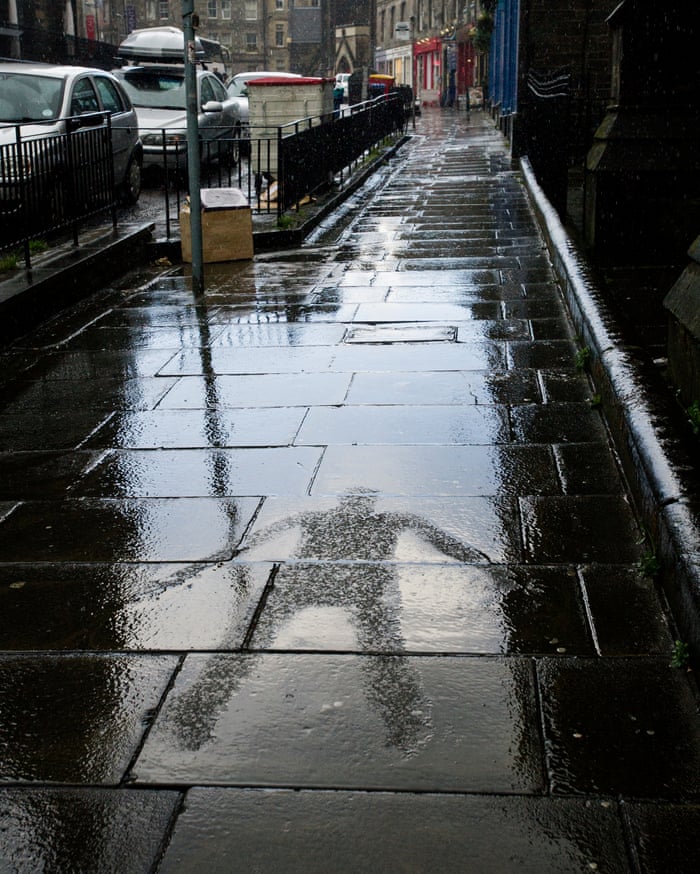 Goldsworthy's rain 'shadow' in Edinburgh. From The Guardian, article by Patrick Barkham.
Photograph: Jane Barlow
At one point in the film, Goldsworthy struggles with explaining his thoughts about nature and its integration with his work. He tells us, "it isn't so clear anymore".  Rather than boxing "nature" into a compartment that includes branches and rocks, rivers and meadows, he seems to see it as an all-encompassing everything. He works with whatever is around him, wherever he is, whether it be country or city, fields or cement sidewalks. By physically connecting with elements around him, involving his own physicality, he is exploring the world in a very personal way, trying to make sense of the world around him.
Use these navigation links to get to inside blog pages, where you can comment.