"Peace, Clarity" photo by Linda Oeffling
Did the people at Pantone have a premonition of what we would need in this crazy year of 2020?  Well, they are the trendsetters, choosing a color to inspire the world's branding, marking and creative societies. As they reviewed the world back in December of 2019, The Pantone Color Institute did say it "recognized similar feelings of instability gripping the world today" (-from CNN.com) They chose a calming color, one that represents dependability and stability. Classic Blue, Pantone 19-4052.
created with interactive tool Experiment & Create: Exploration of Blue, Artechouse.com
Artechouse is a new age art destination, permanently located in Washington D.C.  They featured an installation in February 2020 in reference to Pantone's color of the year, called Submerge. Their website has an amazing interactive tool, Exploration of Blue, an audiovisual experience created by Eduardo Montero.  It is designed to work with a desktop computer, and you can create an amazing image of your own.
Jonas Goldmann, "Dynamic Spiral", from The Blue Art Project
The Blue Art Project, #BlueMakesADifference is an interesting combination of art and science, by Fresenius Medical Care, the world's leading provider of products & services for people with chronic kidney failure. Goldmann's image is about the distribution of blood in the dialyzer.
"Dialyzers are life-saving pieces of medical and technological art. The advanced design of the FX Dialyzers adds a dimension that reflects the thought, care and quality that went into its construction. As the most prominent visible characteristic, the color blue of the FX Dialyzer caps became the inspiration point for our unique blue art project." -Fresenius Medical Care website
Kojiro Yoshiaki,  Structural Blue (15.6), kiln-cast & slumped foaming glass
Kojiro Yoshiaki uses glass powder in conjunction with foaming agents. When it is fired, the mold fills with foamed glass.  This artist lives and works in Japan and exhibits in permanent public collections all over the world.
Use these navigation links to get to inside blog pages, where you can comment.
Leaning Into the Wind is a film about Andy Goldsworthy. I have long been a fan of this amazing artist. I find his sculptures made from natural materials to be contemplative and mesmerizing. He is an ephemeral artist, creating works outdoors made from natural materials that eventually succumb to the elements. His work is not preserved on-site, but held in the moment through the his own photographic images.

Andy Goldsworthy in Leaning Into the Wind: Andy Goldsworthy (2017)
from imdb.com
In an interview by Patrick Markham, Goldsworthy states:
"The ideas I'm having now are far better than anything I've thought of before. Most of them I couldn't have even conceived of 10 years ago, works that take me way out of my comfort zone. The biggest failure is to make a work that is safe, that doesn't take a risk. I'm taking big risks with no safety net."

Image from MV times, Article by Brooks Robards
He has always worked with nature, using materials found around him, yet he does not describe himself as a pastoralist, or even an environmentalist. Although I personally find his work environmental and zen, he views his surroundings not as a place of therapy and peace, but as a place that is challenging — a place to challenge his intellect and engage his body in physical work.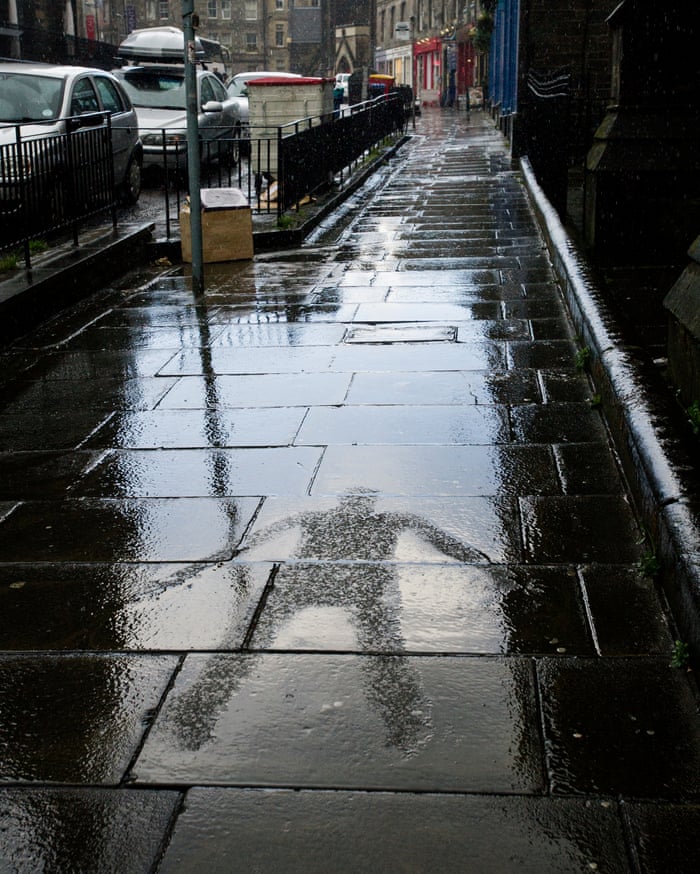 Goldsworthy's rain 'shadow' in Edinburgh. From The Guardian, article by Patrick Barkham.
Photograph: Jane Barlow
At one point in the film, Goldsworthy struggles with explaining his thoughts about nature and its integration with his work. He tells us, "it isn't so clear anymore".  Rather than boxing "nature" into a compartment that includes branches and rocks, rivers and meadows, he seems to see it as an all-encompassing everything. He works with whatever is around him, wherever he is, whether it be country or city, fields or cement sidewalks. By physically connecting with elements around him, involving his own physicality, he is exploring the world in a very personal way, trying to make sense of the world around him.
Use these navigation links to get to inside blog pages, where you can comment.
One of my favorite books and inspiration for art is by a German scientific illustrator, Ernst Haeckel, whose works are featured in Art Forms in Nature: The Prints of Ernst Haeckel. The illustrations will draw in me for hours of contemplation. This year, 2019, is the 100th anniversary of Haeckel's death.
Kunstformen der Natur (1904), plate 28: Discomedusae
Haeckel had a professorship in 1864 at the University of Jena, and this is where he studied various weird forms of sea life, such as segmented worms, protozoa, and sponges. With such a subject, who would think there is a whole world of intricate beauty to be found?
Kunstformen der Natur (1904), plate 31: Cyrtoidea
Haeckel supported Darwin's controversial theory of evolution, and spoke in well-attended lectures to students and fellow townspeople. He may have influenced more people than Darwin himself, having sold more copies of his scientific work and getting translated into more languages.
In the 1800's, scientists had to work with primitive equipment. Some of his colleagues accused him of distorting his images in his detailed sketches. His practice was to portray idealized "types" of organisms and thus his representations may not have been completely scientifically faithful.
Kunstformen der Natur (1904), plate 43: Nudibranchia
All science aside, his illustrations were works of art. Haeckel, in fact, was originally going to be a landscape painter before he turned his interests to science. His work influenced many later art forms, including lighting, jewelry, furniture, and the gateway to the Paris World Fair in 1900, designed by Rene Binet, pictured below. During his career, Haeckel produced over 1,000 engravings based on watercolors and sketches he made on his travels.
Haeckel-inspired Porte Monumentale on the Place de la Concorde, René Binet, Architect World's Fair 1900
Additional Sources: https://arthistoryproject.com/artists/ernst-haeckel/
 https://www.strangescience.net/haeckel.htm
Use these navigation links to get to inside blog pages, where you can comment.